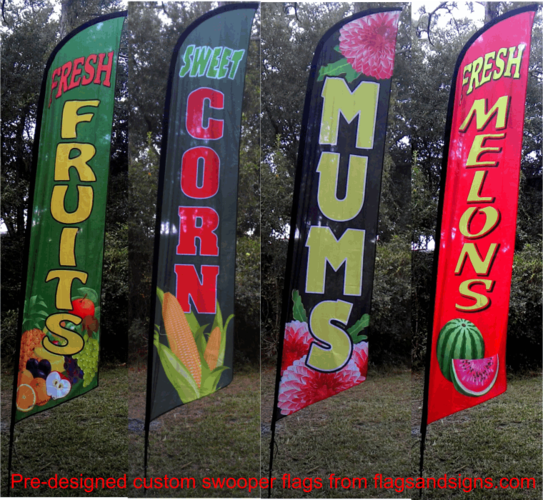 DIGITAL PRINTED CUSTOM MADE, FULL SLEEVE SWOOPER FLAGS for OUTDOOR USE
NOTE: OUR FLAGS HAS QUALITY BOTH SIDE. Don't be fooled by unserious sellers. Buying a flag with white backside and without UV coating is a bad investment....
Type: Full sleeve (windless) swooper, feather, wave, beach flag
Flag Size: W 2.5ft H 12ft
Pole Size: H 16ft
Pole type: aluminum or fiberglass
Usage: outdoor
CONTACT US FOR OTHER SIZES
NO MINIMUM ORDER
NO SET-UP FEE
PRE-DESIGNED FLAGS
FREE SHIPPING
FAQ - CUSTOM FLAGS
What about my artwork?
High resolution, high quality artwork files are required: 300dpi resolution, .pdf, .eps or .ai format artworks files are recommended. We prefer .pdf (font outlined and layers). Your file should be in CMYK
What flag material you use?
We use 110 gr knitted polyester for outdoor use.
Single or double sided?
Most of the swooper / feather flags are single sided. Printed one side and dyed-through to the other side, reversed image back. Don't worry our custom designs are created with this in mind.
Double sided flags has 3 layers. Both sides are identical. The 3rd layer is in the middle, blocking the images from each other.Heavier, needs quality pole.
How to send my artwork?
After you place your order, you can send the artwork to 123minimini @ gmail.com
How to track my order?
Click on Sign In > Order Information > Status History
What shipping companies do you use?
UPS, Fedex, USPS depends of the size and weight of the package.
Can I use my UPS or Fedex account?
No.
Can I come and pick up my order at your store?
We don't have any store but you can reach us if you are in NE Florida.
Can I wash my flag?
Yes, it is colorfast. But it is cheaper if the nature takes care of it.
Is my payment secure?
Yes, we use PayPal and Stripe. We don't handle your card information.
How to get lower prices with larger order?
Orders under 100 flags are printed digitally with higher costs. Over 100 flags can be much cheaper using screen printing. With prices around 15.00
How to contact you?
We prefer you click on "Contact Us" and send a message.
Custom swooper flags can be constructed single or double-sided with pole sleeves.
Single side print: reads right 1 side, reversed image back, 100% dyed-through, polyknit fabric, strong, lightweight, durable air and UV and rain resistance material, double stitched for durability. 100% of stock flags are single sided.
Double sided print: Both sides are identical. Polyknit fabric, strong, lightweight, durable air and UV and rain resistance material, double stitched for durability. The double sided flags are heavier (3 layers) and don't fly so easy. For that reason we can offer now the full sleeve option. No need for wind, always visible.
Easy to set and display your message with our quality stock hardware.
Create your own custom printed flags using your design, or let us design it for FREE!
If you have your own material should be Adobe Illustrator, Photoshop or Coral Draw as an .ai or .eps .pdf (fonts converted to outlines). But a good quality .jpg will do just as well. We prefer vectorized .pdf. Suggested minimum of 150 dots are per inch (dpi) at full size for your image.
We have a custom ordering policy with advance payment required
NOTE: Please check all proofs for spelling and or design errors. We are not responsible for any errors in the design once the proof is approved. Once your order has begun processing, you cannot cancel orders or change the artwork.If artwork is supplied by you, we will print it as is. We will not be responsible for any incorrect layouts, colors, sizes or other mistakes present in any supplied artwork.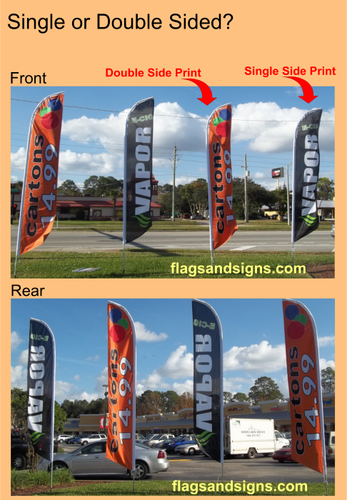 Our custom flags are exclusively designed by our art department! All rights reserved. Unauthorized use prohibited.
NOTE: Flag color displayed in photos / images / proofs may be showing slightly different on your computer monitor since monitors are not calibrated same.

GALLERY Those are 100% all pictures of our flags taken from my Android phone. No Photoshopping, no professional editing...just simply taken to show exactly how our flags look everytime you see them.